My 15 Favorite Things to Do in Nicaragua
Nicaragua used to be a secret. "Pshhh, have you been to Nicaragua yet? That's where you really want to go," travelers would say. It was the land of backpackers and intrepid travelers as tourists veered towards Costa Rica as Nicaraguan's rough past plagued its image.
But over the years, travelers seeking a fun, cheap, and adventurous destination came here as an alternative to "tourist" Costa Rica and Panama once they realized Contras weren't still roaming the jungles.
So the secret is out and Nicaragua is a hot destination spot for families, retirees, and backpackers relishing the cheap beer, hiking, and good surf. After visiting in December, I completely understand the appeal. Nicaragua is filled with amazing natural beauty and extremely warm people. I went in with high expectations and I was not disappointed.
But while the country has been "found," there are still many opportunities to wander off the beaten path, interact with locals, get in touch with nature, and avoid the hordes of travelers asking where they can get a burger. Here are my recommendations for the top things to see and do:
Admire Granada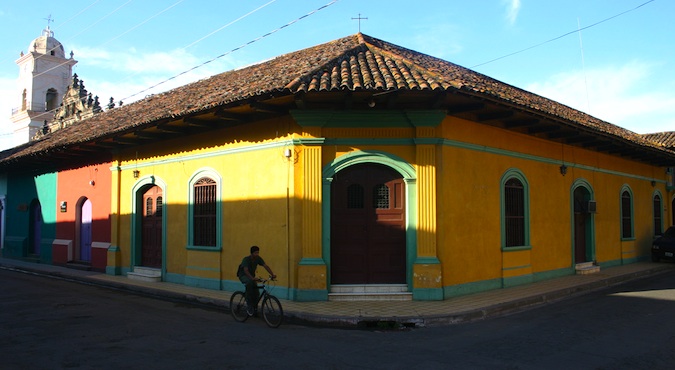 Granada has some of the most well-preserved architecture in Nicaragua. It was the first big Spanish settlement in the country and many of the buildings and churches in the Spanish colonial style are beautifully preserved (and painted a myriad of colors). Besides wandering around gawking at the architecture, you can take a kayaking trip to the nearby islets, enjoy hiking trips to Mombacho volcano, or visit the nearby markets in Masaya. While you're in town, be sure to eat at one of the kiosks in the town square serving vigoron, a local pork and cabbage dish that was delicious (and only $2). Kathy's Waffles and the Garden Café serve good Western food.
Surf in San Juan del Sur


A hit with surfers and backpackers, San Juan del Sur is the most popular beach destination in Nicaragua. All the beaches are beautiful and lapped by warm water. Here you'll find great surfing (expect to pay around $9 USD per day for board rental and $25 per hour for lessons), the 2nd largest statue of Jesus in the world (behind Christ the Redeemer in Brazil), and lots of cheap bars. If you are looking to party, this town is it. The two best hostels in town are The Naked Tiger and Pachamama (they throw a wild Sunday pool party too).
Visit Ometepe Island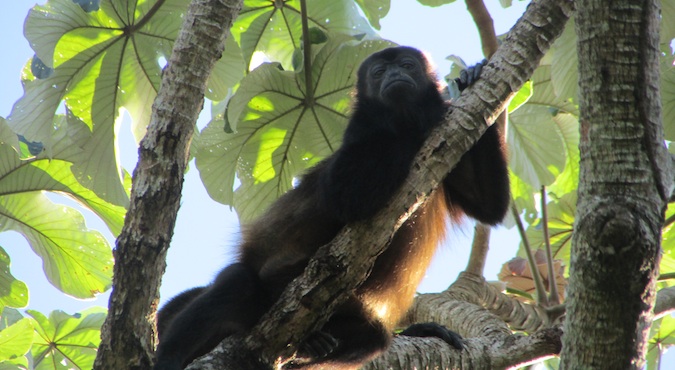 This extraordinary island is located on the Lago de Nicaragua and is formed by two joined volcanoes, Concepcion and Maderas. Hiking, kayaking, cycling, and healthy food are the island's main draws. Hiking the volcanoes is as hard as it appears; you'll need to start really early or the mid-day heat will slow you down significantly (I learned this lesson the hard way). The volcano hikes cost around $20 USD if you're part of a group or up to $40 if you are by yourself (hike with a guide as it's rather unsafe due to poorly maintained trails). Keep an eye out for all the monkeys – spotting them was more interesting than the hike!
Visit "new" León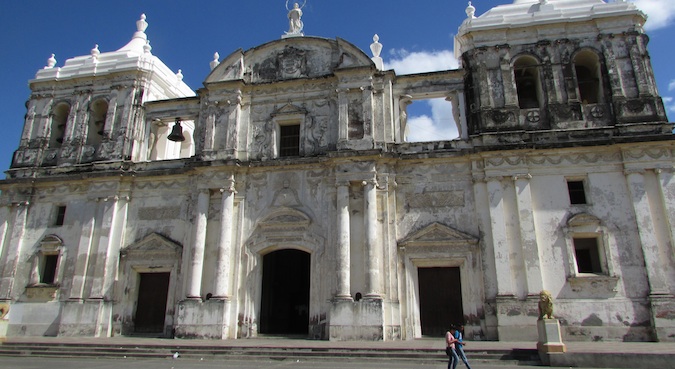 This city was Nicaragua's capital until 1857. To this day it remains the country's "intellectual" capital and is home to the National University. Remnants of the political war between the Somozas and Sandinistas can be seen in the graffiti and murals around the city. There are a lot of churches here, many art museums, and a burgeoning food movement. Make sure you visit the Museum of the Revolution, a fascinating museum about the Sandinista movement. The $2 entrance fee includes a guide. León is also where people base themselves for trips to the nearby volcanoes. This city was one of the highlights of my trip.
Visit "old" León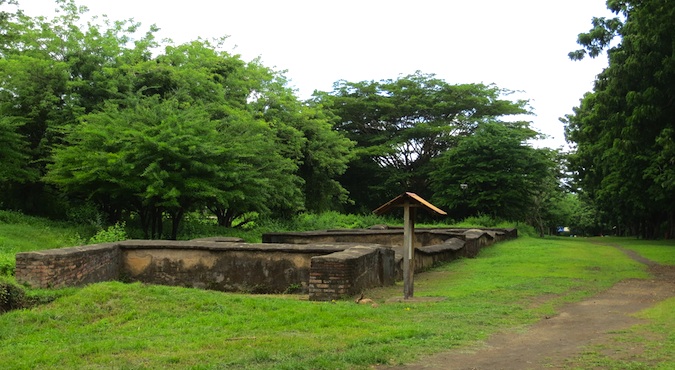 The ruins of León Viejo date back to the 16th century and are a short trip from León. The site is Nicaragua's only UNESCO World Heritage listing and is one of the oldest Spanish colonial settlements in the Americas. While this isn't some lavish ruin site, it's really the only place to see and learn about the country's founding colonial past.
Go Volcano Boarding


Cerro Negro, a young and active volcano, is where tourists (mostly backpackers) board down the gravelly slopes on one of the many organized tours to the mountain. You hike up to the top, which takes around an hour, sit on a piece of wood, and then fly down side of the volcano. Tours from León leave in the morning and in the afternoon. It's the main reason lots of travelers visit León and, while not my cup of tea, is extremely popular. I couldn't visit anywhere in the country without seeing someone wearing a "I went volcano boarding" t-shirt.
Escape to the Corn Islands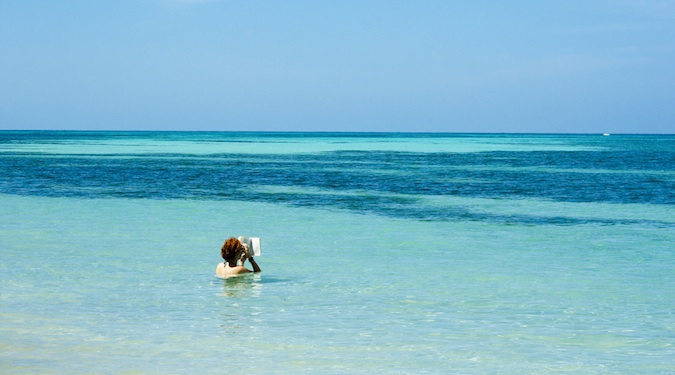 Located off the Caribbean coast of Nicaragua, the Corn Islands are a gorgeous place for a vacation retreat. Most people come to the islands to snorkel, scuba dive, fish, soak up the sun, and relax with a good book. There are two islands: Little Corn and Big Corn. Little Corn is the quieter, more backpacker-oriented island with cheaper guesthouses and fewer resorts. You can fly or take a ferry to Big Corn and then a smaller boat to Little Corn. Big Corn is more developed with larger resorts, restaurants, and is more expensive.
Hike Miraflores

Located in Esteli in northern Nicaragua, exploring this national park was the highlight of my entire trip. You get to wander through a beautiful cloud forest, around small farms, and over rivers and waterfalls. You'll hardly run into any other tourists – it's like you have the whole jungle to yourself. You can take day-long or multi-day treks to the park (the multi-day trips enable you to stay with local host families in small communities). There are also programs to help you learn to farm or teach here. I did a one-day trek ($15 USD for two meals and a mandatory guide), which started at 7 a.m. and concluded around 4 p.m. Bonus: all the money from the tours goes back into supporting the community and farmers.
Visit the Stone Man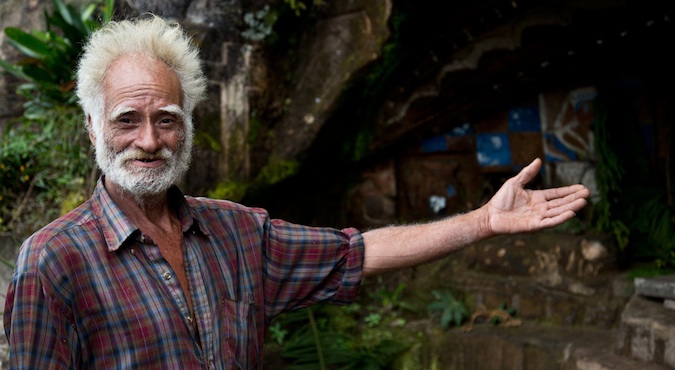 Alberto Guiterrez has been carving animals and symbols into the stones outside Esteli for decades. He had a vision of angels who told him to carve and in an effort to end his alcoholism, began carving every time he craved a drink. He's not easy to get to but when you find him, Alberto will welcome you into his home, give you fresh fruit, and show you all his stone carvings, which he says were inspired by God. He doesn't speak any English, so if you don't speak Spanish, just nod and enjoy the carvings. He also won't ask for any money but donations are welcome. This is a really great "off the beaten path destination." Special thanks to Rodney McDonald, director of ERSLA (a fantastic non-profit that sets up fire departments in the country), for taking me there and introducing me!
Skip Managua – There's nothing to see here. Move along.
Hike Some Volcanoes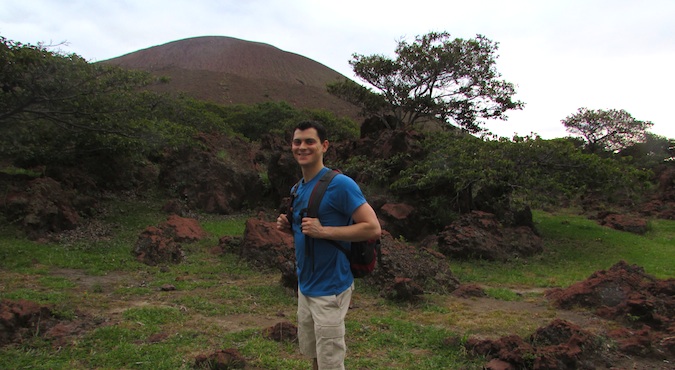 There are a lot of volcanoes in the country and hiking them is a popular activity. It was the main reason why I headed to Nicaragua, and I ended up hiking three. The two volcanoes on Ometepe are popular day hikes. They are a lot more challenging then you'll be led to believe, but worth it (look out for monkeys!). León is probably the best place to do some hiking, though, since there are a lot of volcanoes there. If you're looking to get your hiking fix, this is where to do it! The most popular volcanoes are Cerro Negro (volcano boarding), Telica (where you go for sunset hikes), San Cristobal (the longest and hardest), and Momotombo (second hardest).
Binge on Gallo Pinto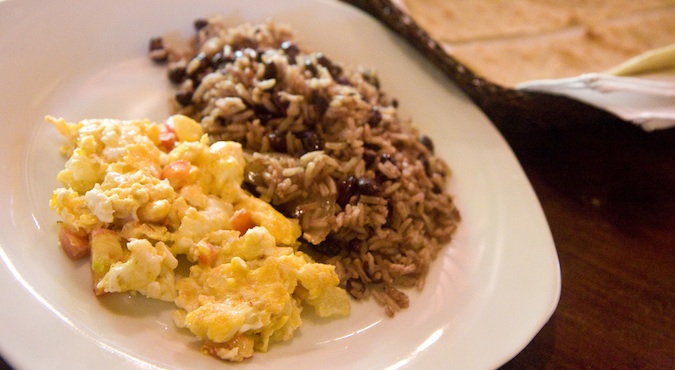 I'll be honest. I found Nicaraguan food pretty bland. Be prepared to eat a lot of gallo pinto (rice and beans), meat, and fried plantains. It's not the most exciting food but it was delicious (and super economical). However, after eating it for three days straight, I broke down and went to a Western restaurant. A man can only eat so much rice and beans before he needs something different.
Do a Homestay/Learn Spanish
Want to stay longer? Take part in a homestay. There are a lot of opportunities to stay longer, volunteer, learn Spanish, and farm. If this interests you, hostels and tourist offices in any big city can help organize this for you. Esteli, Ometepe, and León were popular destinations for this.
Visit Apoyo Lagoon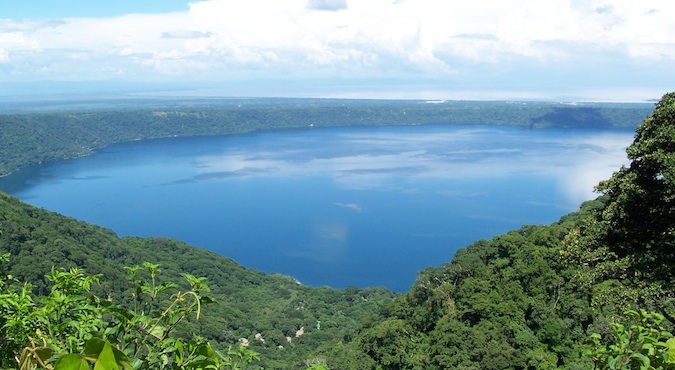 Though lots of people visit Lake Nicaragua (which is the biggest and where Ometepe is), this lagoon near Managua is a nice spot to relax. You can sail on the lake, fish, and hike around. It's a beautiful part of the country.
Relax – Nicaragua is a great country to just hang out in. Sit on a beach with a good book, relax in the jungle, stay on the farm, surf, or swing in a hammock. The pace of life here is slow and relaxed so slow yourself down and enjoy some lazy, wonderful days.
Nicaragua is fast becoming the new Costa Rica in terms of tourism and I highly recommend a visit to this country before it becomes "too touristy" and expensive. I see the writing on the wall – this place is going to explode with tourists even more so than it has already done. Nicaragua is a nature lover's dream: volcanoes, rainforests, mangrove forests, and beaches abound. Add in some adventurous activities, friendly locals, and cheap prices and you'll see why everyone speaks raves about this country.
I loved it so much that I'm already planning to go back there this spring.